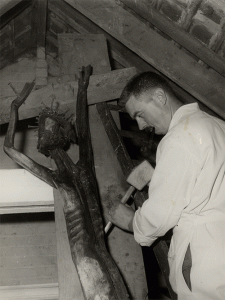 As any other young artist, De Gheus is a product of the influences of his academic training and the artistic trends of the time. From these he has to distil his personal style.
His early paintings show the expressionist influence of Permeke, Wouters, Desmet and Servaes. Jespers, Zadkine and Moore are his models in sculpture. The sculptural group Angel and Couple for the entrance of the OCMW-building Poperinge, clearly refers to Jespers' angel on the tombstone for Paul Van Ostayen.
When in 1953 he wins the 2nd prize for Sculpture Province West Flanders, the jury praises his potential, but remarks that the 'the sculptor's individuality has not yet enough developed to create a personal style' . Yet, art critic Marcel Duchateau, who visits De Gheus in his atelier, then already points out the real strenghth of the artist: his ceramic work.
Although in '54 he is nominated for the Provincial Prize Painting, and even wins it in '64 with 'Kermisleute', he gradually gives up painting. Throughout his life though, he remains a gifted drawer.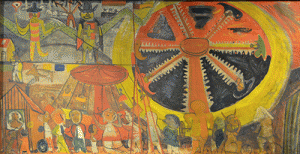 The more than thousand pencil drawings, pastels and aquarels kept at the museum house, show the quality of a sculptor who knows how to work in three dimensions, whether his subject is a female nude, an animal or an item from nature.