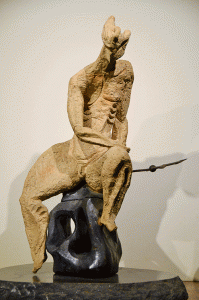 After 1954 many expositions follow, and he is praised especially for his ceramic bas-reliefs,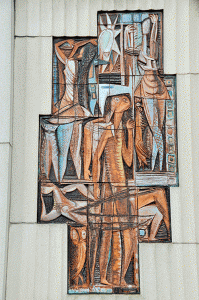 and the images in vivid colours baked in dishes and bowls
.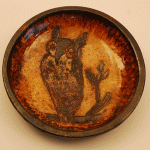 De Gheus is less interested in the form of the object: to him it is only a means to tell his stories, playfully, humoristic and full of fantasy.
The peak of success is reached at the world exhibition Brussels Expo 58. The sculpture 'Ridder uit liefde' gets the gold medal for ceramics and is sold to art collector Dr. Heulens.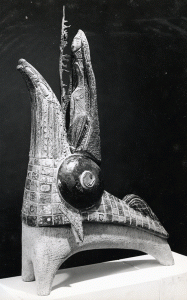 The first sculpture in this series of three, is still in the museum's collection, the third 'Rodeo te Brussel' is exposed at the museum of the city Ypres. From then onwards, De Gheus sees himself settled in a group of temporary well-known ceramists : O. Strebelle, P. Caille, J. Maréchal, … Stimulated by the 'Provinciaal Comité voor kunstambachten en kunstnijverheid West-Vlaanderen', empassioned by chairman A.M. Botte and secretary Gerard Schelpe, curators Vandenbussche of the Provincial Museum West Flanders and M. Vandewalle designmuseum Ghent, De Gheus frequently takes part in expositions and competitions both in Flanders and abroad : Westfalen, Luxemburg, Italy and Denmark. The museum house possesses a rich collection and offers a wide survey of his ceramic work from 1942 to 2007.